All of those dreaming to have a career in the hospitality and tourism management industries know this: an international outlook is the key to success. That does not merely mean speaking several languages, but requires being at ease with diverse cultural codes, honing your intellectual agility, and having experience in different managerial techniques.
These are the stakes that the Marco Polo program has, winner of the Best Innovation in an Educational Program Award on November 7, 2018 in the Worldwide Hospitality Awards, a program to reward the best annual initiatives in the global hospitality industry.
Vatel Group is proud that this innovative program was recognized both by the international jury composed of hospitality professionals, as well as by the general public, who all voted in its favor.
This prize is for all Vatel Group's schools, all their employees and professors as well as all its students who take part in the Marco Polo program and who, each year, spread cross-cultural initiatives and the French art of hospitality.
What is the Marco Polo program?
> Travelling the world while conserving your educational marks
This international exchange program allows students to do their second Bachelor's year in one of the other Vatel campuses in the world. Because the Vatel curriculum is the same in all our Group's schools, students take the same courses as they would have in their home school, while being immersed in another culture. We also encourage students to do their six-month internship in their host country. With Marco Polo, Vatel makes sure that its students continue learning, nourished by a rupture of codes, languages and cultures.
> An international outreach acclaimed by professionals
Students, who are curious to discover other cultures, keen to have international experiences that will make the difference on their resumes, are each year 30% more to want to take part in this program. Only the best candidates are chosen, in order to ensure their ability to be able to learn in another language and feel at ease in another culture.
During their Marco Polo year, students gain intellectual and cross-cultural agility, cultivate their open-mindedness, improve their linguistic skill sets while becoming used to other managerial techniques: priceless strengths for future professionals in the hospitality industry!
And it's not rare that professionals who hosted these students during their internships offer them jobs after they've graduated, a proof that the future hospitality professional is already in line with this field's requirements.
Today the hospitality and tourism industry is one of the most attractive fields, representing one out of ten jobs in the world (source: World Tourism Organization), and it targets the most flexible and most international talents.
Vatel Group, training tomorrow's professionals in the international hospitality industry, is proud to contribute to these dynamics.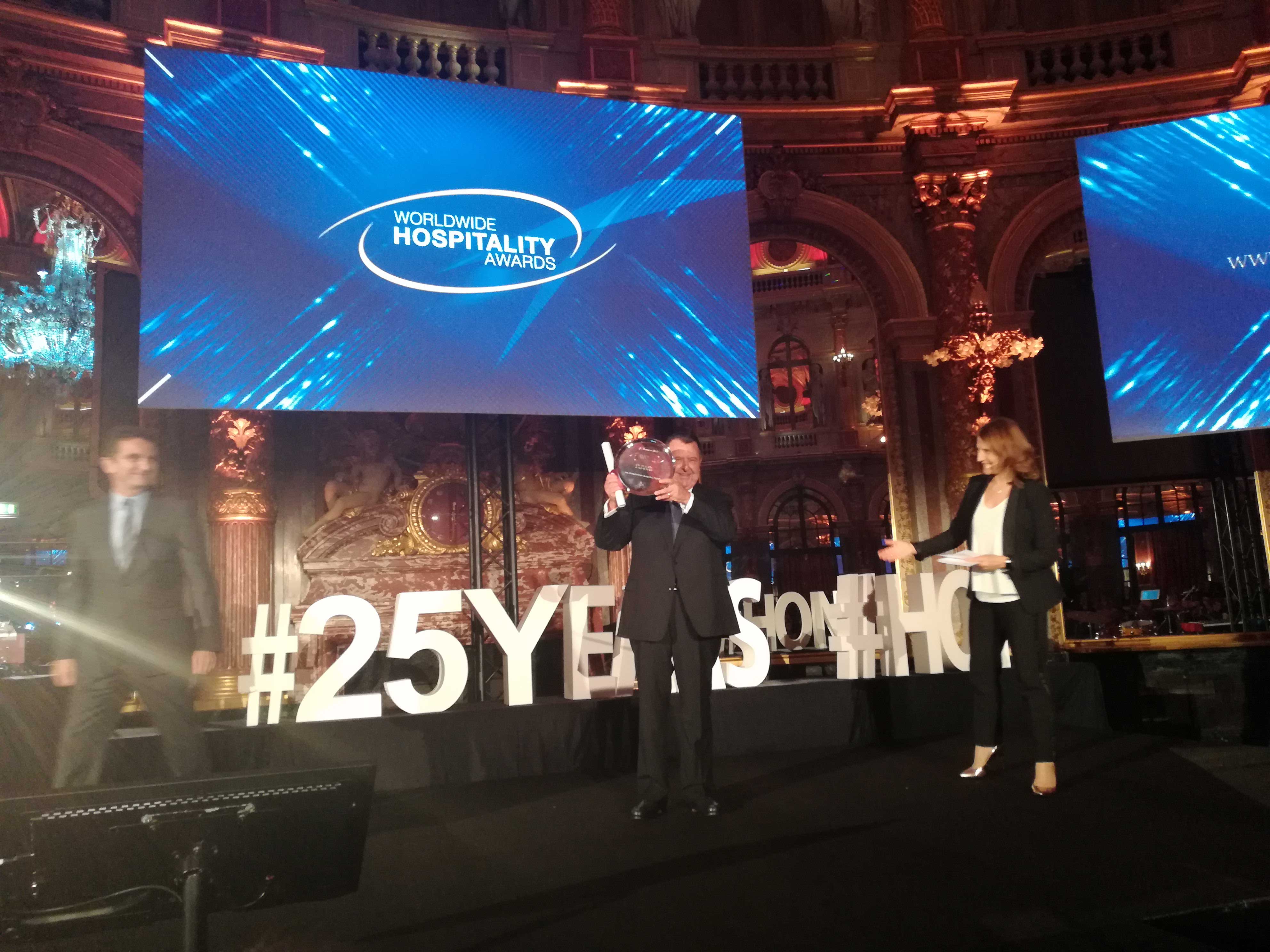 Photo: Mr. Alain Sebban, Founder & President of Vatel Group, receiving the Best Innovation in an Educational Program Award.